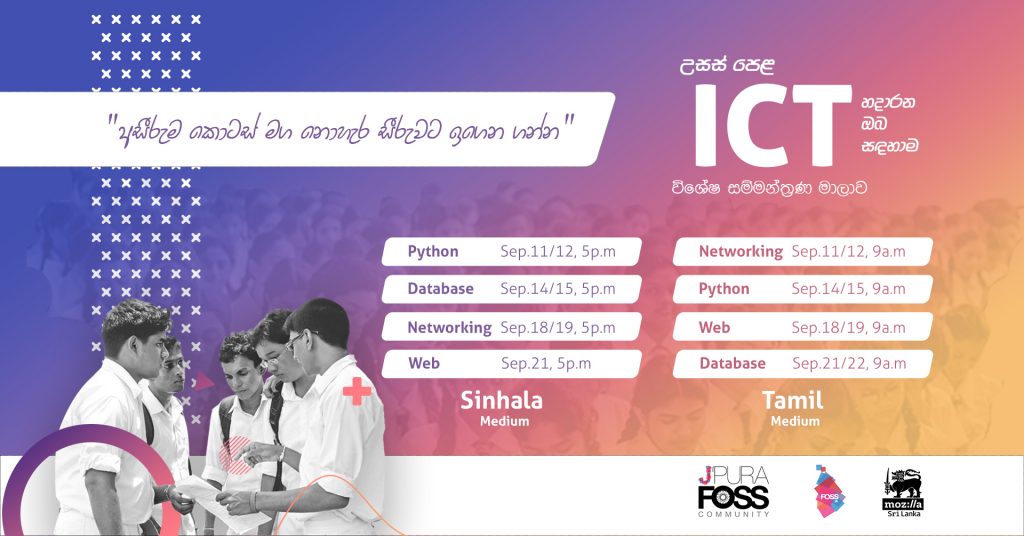 In response to the pandemic and isolation measures put in place in Srilanka, FOSS Community Students in University of Sri Jayewardenepura offer free learning content and series of study sessions for the students who are facing their final advanced level examination in ICT stream. During this time, J'Pura foss community remains as passionate as ever for helping the students learn and grow.
Study sessions will be conducted in both Tamil (8 sessions) and Sinhala medium (7 sessions) by talented and experienced undergraduates in the Faculty of technology, University of Sri Jayewardhenapura. To help our community during this critical time, J'Pura FOSS youtube channel will live stream all the sessions exclusively .
As each of us navigates the impact of COVID-19 on our lives, we hope that you can find comfort in the strength of the free service done by J'Pura FOSS community. We let you know that you're not alone, and we're here to help in any way that we can.
The content that is going to be covered during the seminar are :
Sinhala Medium

Python – 11th & 12th Sep, 5PM 
Database – 14th & 15th Sep, 5PM
Networking – 18th & 19th Sep, 5PM
Web – 21st Sep, 5p.m 

Tamil Medium

Networking – 11th & 12th Sep, 9 AM
Python – 14th & 15th Sep, 9 AM
Web – 18th & 19th Sep, 9 AM
Database – 21st & 22nd Sep, 9 AM
We are damn sure that this seminar will be a refreshment for you and it will clear your doubts. You still have time to register through J'pura FOSS official page and get updates via WhatsApp.